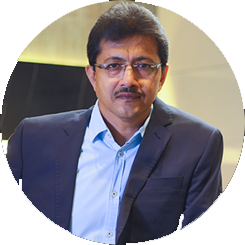 Mr. Rajesh Shah
LEADERSHIP THROUGH FOCUS
At Archer Ply, we single-mindedly strive to attain unparalleled leadership in the vertical of interior design through delivering quality products and services. A multi-brand distribution house Archer Ply, since inception, has specialized and created a niche in the panel products category. The company was established in 1996 by Mr. Rajesh N Shah, a dynamic entrepreneur with sharp business acumen.
Over the years, Archer Ply has acquired a large customer base owing to its expertise in understanding clients' needs, various aspects of design, sourcing quality products globally and delivering those efficiently.
At Archer Ply, our experts examine projects from concept to visual representation and application, accordingly offer comprehensive solutions to clients and associates alike. A wide-ranging product bouquet, well-spread dealer network and a sizeable warehousing capacity, helps us enhance our services and achieve clients' delight.
LEADERSHIP THROUGH ENTERPRISE
Owing to prompt services and fair business practices, the company has sustained a steady growth of over 25 percent year-on-year.
As a part of reinventing business, Archer Ply has launched Brand Archer which will encompass a comprehensive range of design material and interior products.
LEADERSHIP THAT IS RELIABLE
A premium product from the house of Archer Ply, Archer Platinum is finest grade plywood empowered with the power of 100% Burmese Gurjan & high solid content resin. Burmese Gurjan is best-rated hardwood among all the hardwood found on earth and is known for its high density. Archer Platinum is naturally unaffected by termite and borer attack. Further, its unique manufacturing process with 8x4 ft core & 1.2 mm thick face veneer, makes it incomparable & unique plywood. The unmatched quality of Archer Platinum can be explained through the following features.
Manufactured as per stringent British Standards.
High Density Timber - 100% Burmese Gurjan selected from best region of Burma.
Completely Treated Logs - In addition to the presence of Silica content, Archer Platinum logs are duly treated with anti-terminate, anti-borer chemicals.
Archer Platinum is manufactured with 8x4 ft core & panel because logs are peeled in 8 ft peeling machine. Assembled in 8x4 ft auto core composers to avoid core gaps due to dislocation.
High solid content resin - Resin used in Archer Platinum has high solid content to provide strong bonding.
High nail holding capacity - Manufactured with 8x4 ft core panel of Burmese Gurjan. No gap inside the plywood. Offers great flexibility and strength, one can nail on its edges.